Burger King has been a part of baseball card collecting for a long time. Most of us probably think of the late '70s BK issues, at least I do. You know, the Topps cards that were the same as the flagship, just with different card numbers. Reggie Jackson's and Thurman Munson's 1979 Topps Burger King always come to mind when I think of that.
Mark Hoyle once sent me that whole set via PWE back in 2015, which was amazing.
In the late '80s, they went the more conventional oddball-type route with their All-Pro Series. The image below is ripped from Beckett.com but I can't figure out how to caption on new Blogger. So sorry, Beckett.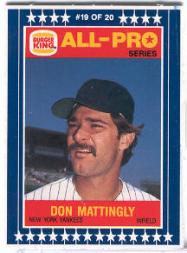 I have come across the cards above far more than one I have wanted even more, which is a Tino Martinez from the 1999 Fleer Burger King set. However, I finally snagged the card I wanted:
No BK logo on the front, but there it is on the back. Interesting choice working with Fleer on this one.
What's a little annoying is that I realized I could get a full uncut sheet for a little more had I searched for it. Meh, I don't want to store an uncut sheet anyways.
Fleer issued a set through Burger King to honor the Yankees 1998 World Series title. The sheet also came with a 1999 schedule attached. There are 27 cards in the set, and were distributed locally in the NYC area.
The Tino for me doesn't pop up often, but maybe because I should have been searching for the uncut sheets this whole time. Who knows? But glad to finally have it.
And I didn't even need to eat a Whopper to get it.